Creating a startup can bring all sorts of hassle. Not only will it be hard to get good funding at first, but staying organized can be challenging as well. The primary focus you need to have when you run your startup is productivity. That means delivering results quickly and well. While it might take a bit of time to get the outcome you need, the experience can be worth it in the end. It all comes down to the workflow and tools you use. Here are some of the best ones.
Thankfully, you can find a broad range of helpful tools that will be able to offer you the help you need pretty fast! So, if you want to boost the productivity and efficiency of your business, here are some of the best tools that you should use right away!
Trello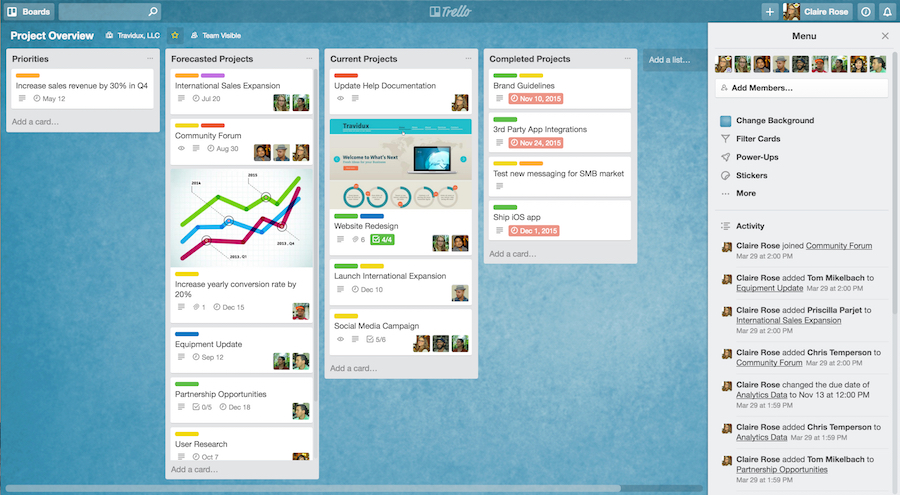 What makes Trello magnificent is its simplicity. It's probably the easiest to use tool for project collaboration out there. You have the ability to organize and create boards depending on your needs, and you can assign tasks to each person. You can see the progress of each task, the deadline and you can even access a calendar that will give you immediate access to all this valuable information. The downside of being really simple and easy to use is that Trello can get a bit overwhelming for larger teams and larger projects.
Blossom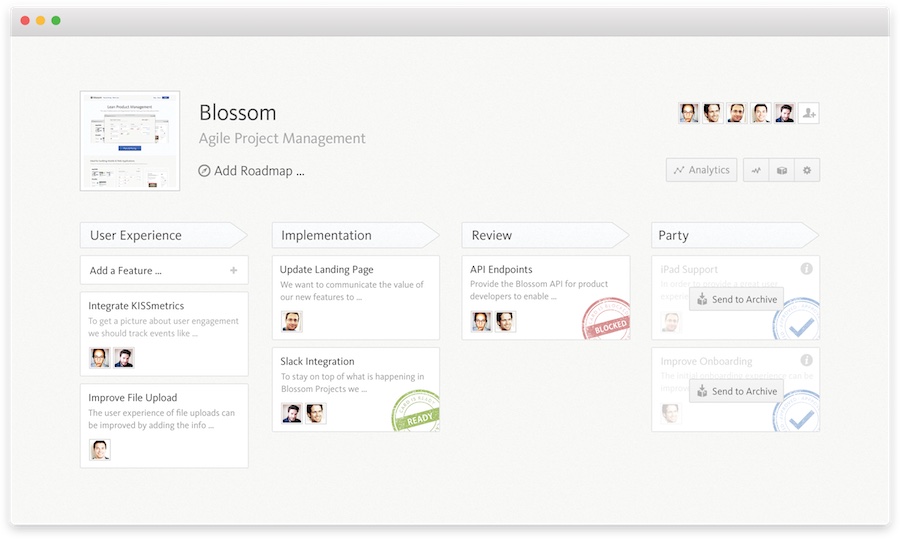 Blossom is a very simple and easy to use tool like Trello. As well as the other ones, it's very good for the remote teams from all around the world. Blossom focuses on great workflow and visibility. The tools will help boost your exposure in the online world and which will bring in front quite a bit of value. From analytics to email reports and feature cards or integrations, there are a lot of tools you can access here, so you should consider giving them a try!
Asana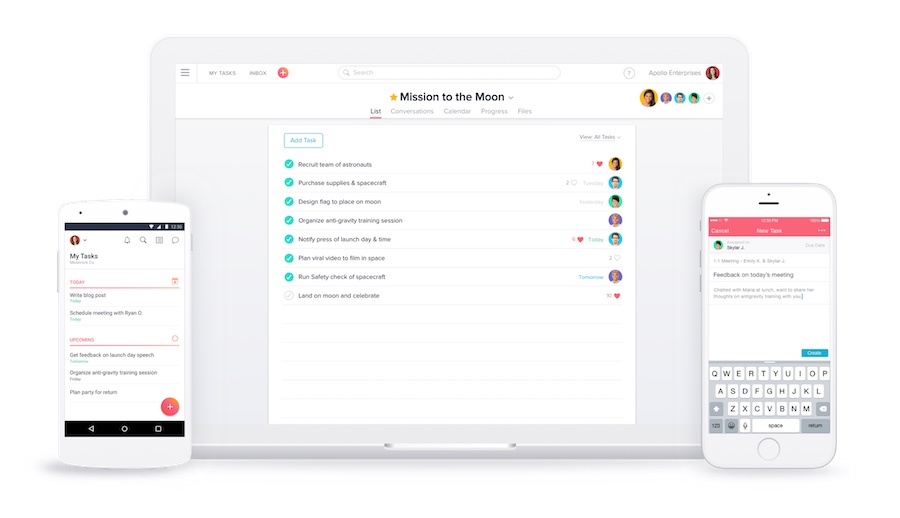 The way Asana is simple, yet powerful. It allows you to create teams to keep the different topics under control. Creating projects and tasks within each team helps you keep organized and on top of everything and see the progress from start to finish. Asana feels a bit more complicated to start with than Trello, but it's an easy to use tool once you get used to it.
Podio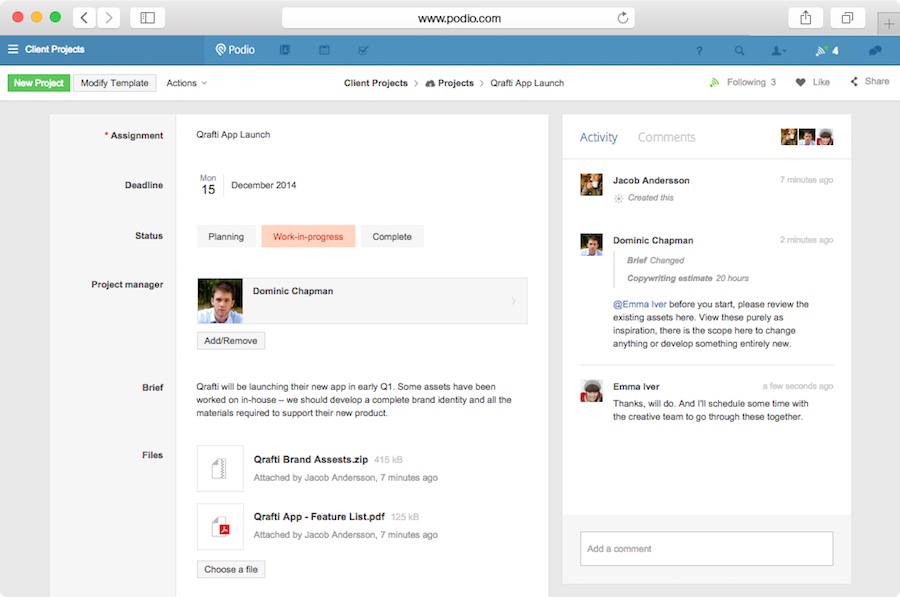 Podio delivers a customizable work management solution that allows your team to work and collaborate with one another without leaving their desk. The biggest advantage of Podio is it's versatility and an opportunity to customize everything. It's also its disadvantage, because it's more complex than the other tools and it takes a bit longer to get used to fully leverage its potential. If you want to get an excellent value while you manage your startup, this is one of the best tools to use.
Front – New kid on the block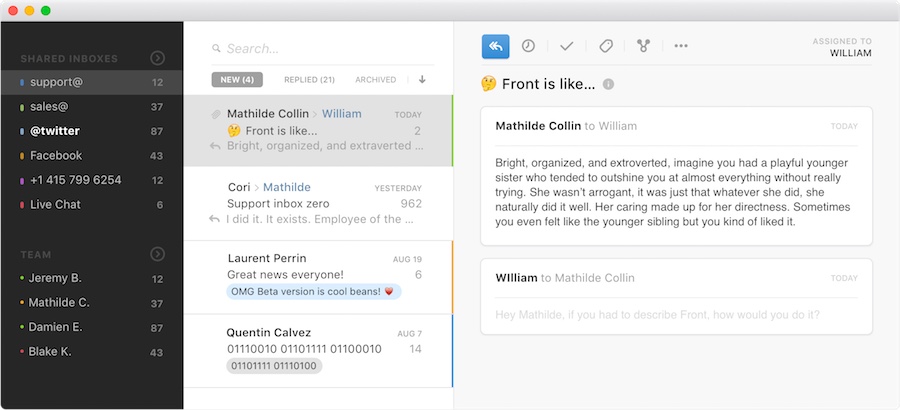 Front is a new app that I really want to try asap. They do an excellent job at offering a shared inbox not only for received emails, but also Twitter and Facebook Messenger. On top of that, it integrates with many other tools, also the ones mentioned above. The whole team has the ability to see all the information that the company receives and collaborate on addressing them. It's a very distinct, unique way to handle emails that does pay off immensely in the longer term. I believe that using Front can help you take complete control over your projects and communication and I can't wait to test it.
It can be hard to organize and manage your startup, but these five tools will be able to help! Not only are they helping your team become more productive, but they also offer you the resources and instruments you need to grow your company. There are certainly other tools that didn't make this list and are going to help you a lot as well. Which one do you think they are?